Salty C Dog cards are launched at Autumn fair…… Good response with orders going nationwide  and enquiries for art prints as well!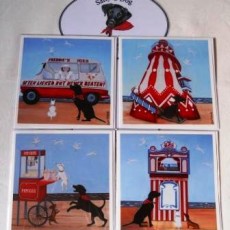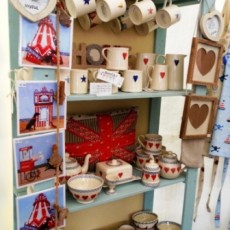 Inspired by the Time Team programs we set off to Cirencester to see the archaeological finds in the Corinium Museum.
www.coriniummuseum.cotswold.gov.uk A great museum with many interesting treasures and some of the most beautiful mosaics I have seen.  An added bonus in their gallery was the exhibition "Deception" by photographer    Mark Fairhurst. His first exhibition of the architecture  of local Cotswold churches. Dramatic images mirrored and colourfully reproduced to stunning effect…….see his work  on You tube Mark Fairhurst Deception……  A great day out in a beautiful old town with surprises round every corner.
As you can see the John and Michaela portraits are well on their way and nearly finished, just need a few details working on.        Then we can see what they think of them!
Bumped into the fabulous cartoonist Rog Bowles at one of my events . Had not seen him for several years so good to catch up.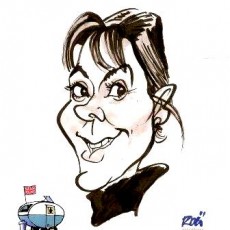 He had time for an updated Lynn!See his work and  contact him for your special events at  www.rogcartoons.co.uk