On our morning run today Salty and I saw our first skylark of the season, Flying so high , singing its lovely song and then falling like a stone down to earth……………………an amazing display from what looks such an unassuming little bird!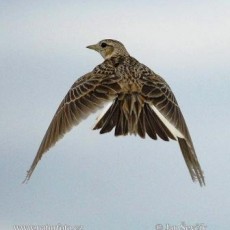 "Skylarks advertise their territories by a spectacular song-flight, during which the bird rises almost vertically with rapid wing beats, hovering for several minutes then parachuting down.  Song-flights of up to one hour have been recorded, and the birds can reach a thousand feet before descending"
So………. if you find a few minutes in your busy day then click,  and listen to "The Lark Ascending" My favourite violin solo  composed by Sir Ralph Vaughan Williams.
Mad March Hares!……………………..My friend and local watercolour artist June Willsher paints the most wonderful animals, her painting of two boxing hares is lovely and you can order a limited edition print from her at www.junewillsher.com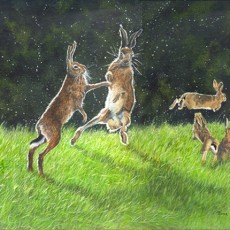 Been busy with my portrait of Mr Getley, master of the Bicester on his hunter Gershom ,  nearly finished!!