Well, as promised snooker portrait finished!………… and well received!
Took portrait of Ronnie O Sullivan with me to World Championships at Crucible Sheffield. Got him to sign it and had some photos done.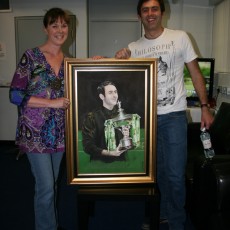 BBC filmed interview with Rob Walker which went out on live TV  at interval on game between Ronnie and John Higgins.  Clive Everton did a piece for the June edition of Snooker Scene Magazine.
Many thanks to Mark Stevenson for taking the Fab photos.
www.mssphoto.co.uk
Painting now to go to the Snooker Annual Awards Dinner at the Dorchester ,Park Lane, London on Friday 6 May .  To be auctioned by Willie Thorne to raise  funds for the Cancer Charity.
www.killingcancer.co.uk
Met Steve Goodison at Sheffield, exhibiting his work in the Winter Gardens;  a local artist working with graphite pencils. He creates fantastic portraits see more of his work at www.stevegoodisonpopart.co.uk
MARCH
Working on some images of Salty C Dog and her friend Nip Macallan at the seaside for card publishing companies……….. Slightly retro with childhood memories of brightly coloured helter skelters, punch and judy and ice cream vans……….Happy days!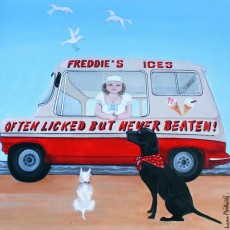 A quiet weekend and perfect weather!  Out with my newly lettered signs! I open the studio with a small exhibition of my latest work, sketchbooks and some of my new art cards. Chance for visitors to see the originals and work in progress. Tea, coffee and cakes out in the sunshine. YUM.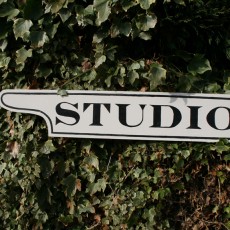 FEBRUARY Took the train from Berwick upon Tweed to Edinburgh to visit the galleries. The National Gallery complex is packed with  treasures,  some I had been wanting to see for years.  Firstly the sculpture of Antonio Canova's  "Three Graces". I first saw his work in Venice………..  the tomb of Titian and loved the way he has worked the marble……. Heavenly bodies and wonderful flowing lines of soft fabrics.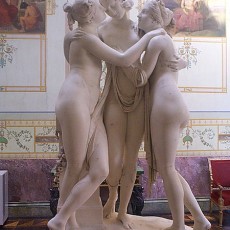 Next was the captivating portrait of  Lady Agnew of Lochnaw by John Singer Sargent . One of my favourite portrait painters at his best. Beautiful detail in the face then a flick of the brush to create delicate silks and satins.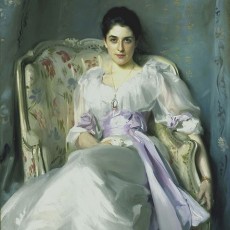 The other must see  portrait for me was that of the Reverend Robert Walker skating on a frozen lake in winter. Tucked away on the lower floor with other Scottish artists work, this image is so captivating. He confidently glides across the ice, arms behind his back with his frock coat and top hat looking very grand. A painting to make you smile!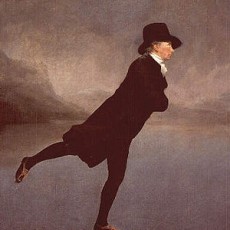 A great morning rounded off with a wonderful lunch in the panoramic restaurant!